Poor Scooter. He just can't catch a break. Gee, the judges keep ruling against him out of some strange notion that the investigation into Plamegate should pass the smell test of fairness in our justice system. What a concept! The Bushies are so accustomed to having things precisely their way, they cannot believe there's an unflappable, forthright straight-shooter heading up an investigation into their various shenanigans. Oh well, too bad. Get used to it. Try as you might, Scooter, the bar of justice ain't bending and Fitzgerald is gonna stay right where he is — with a magnifying glass pointed up your nose. -hl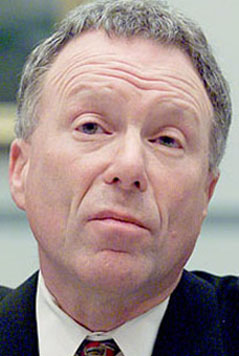 A federal judge refused Thursday to dismiss charges against I. Lewis "Scooter" Libby, the former top White House aide who was indicted on perjury and obstruction charges last year in the CIA leak scandal.

In a 31-page opinion, U.S. District Judge Reggie B. Walton turned down a motion by lawyers for Vice President Dick Cheney's one-time top assistant, who challenged the authority of Special Counsel Patrick Fitzgerald to handle the case.

Libby's lawyers had argued that Fitzgerald was given too much power - more than the attorney general - and that the appointment should have been made by the president with the Senate's approval.
Walton said Thursday he did not need to "look far" in the law to reject the claim by Libby's defense team. The judge said there is no question the attorney general can delegate any of his functions.
"There was no wholesale abdication of the attorney general's duty to direct and supervise litigation," he wrote.

Then-Attorney General John Ashcroft had recused himself from the investigation because of his White House contacts. James Comey, who was deputy attorney general at the time, appointed Fitzgerald, giving him wide berth to conduct the investigation into who leaked the identity of CIA officer Valerie Plame to reporters in 2003.

"This case provides the clearest example of why such broad discretion is necessary," Walton wrote. "Here, the attorney general believed there was a conflict of interest ... It was, therefore, entirely appropriate for the attorney general to remove himself completely from the investigation."

Walton said there must be a way to appoint special prosecutors to ensure that "the perception of fairness withstands the scrutiny of the American public" when high-level government officials are investigated for alleged wrongdoing.
Libby, 55, is charged with perjury and obstruction of justice, accused of lying to the FBI and a federal grand jury about how he learned about Plame and what he subsequently told reporters about her.
Conservative columnist Robert Novak named her in a column July 14, 2003, eight days after Plame's husband, former U.S. Ambassador Joseph Wilson, alleged in an opinion piece in The New York Times that the Bush administration had twisted prewar intelligence on Iraq to justify going to war.
The CIA sent Wilson to Niger in early 2002 to determine whether there was any truth to reports that Iraq had tried to buy yellowcake uranium from Niger to make a nuclear weapon. Wilson discounted the reports. But the allegation nevertheless wound up in President Bush's 2003 State of the Union address.
Walton said Comey made the legal analysis more difficult by failing to appoint Fitzgerald under Justice Department rules for special prosecutors. As a result, the judge said he had to rely on a series of letters Comey wrote to Fitzgerald outlining the CIA leak investigation.
The judge concluded that Fitzgerald's powers are limited because he can be removed by the Justice Department. Walton also said Fitzgerald's authority will expire when the CIA leak investigation and resulting prosecutions are concluded.
"The integrity of the rule of law ... is challenged to the greatest degree when high-level government officials come under suspicion for violating the law," Walton wrote. "And a criminal investigation of any individuals, prominent or not ... must be above reproach to preserve respect for the fairness of our system of justice."