David Edwards,
Veredictum.com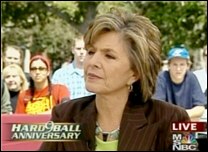 Video in Streaming Flash format...
Video in Windows Media format...
Audio in MP3 format...
Yesterday, Senator Barbara Boxer delivered
a letter
to President George W. Bush demanding that he apologize for his role in using NIE intelligence for political purposes. Boxer's letter begins, "
I am writing to request that you apologize to the American people for your role in declassifying information for political reasons and authorizing its dissemination.
"
Senator Boxer appeared on
MSNBC Hardball
to explain her reason for writing Bush. Boxer also spoke in support of Senator Feingold's censure resolution.
See MSNBC
transcript
.