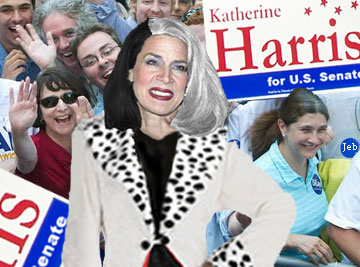 BRENT KALLESTAD
Associated Press
TALLAHASSEE, Fla. - A nephew of Pittsburgh Steelers owner Dan Rooney said Thursday he has been urged by Republican insiders to challenge U.S. Rep. Katherine Harris for the party's nomination for the U.S. Senate.
Tom Rooney, a former Army officer who taught law at the U.S. Military Academy, said he will make a final decision within two weeks. Rooney's potential entry comes at a time there is widespread speculation that the Harris campaign has bogged down to the point Republicans don't believe she could defeat Democratic incumbent Bill Nelson in November.
"I don't want to make a decision that doesn't turn out to be a good one, but obviously I can't wait too long," said Rooney, 35.
Rooney's wife, Tara, is expecting the couple's third son later this month as well.
Meanwhile, the Republican president of the Florida Senate, Tom Lee, dodged a question about whether he's been recruited by the National Republican Senatorial Committee as well and refused to rule out switching from his race for chief financial officer to enter the Senate fray.
"I really don't have any comment on that," Lee said Thursday. "That's an issue the Republican National Senatorial Committee has to deal with.
"I don't have any comment about this race," said Lee, noting "I would never say never."
Brian Nick, spokesman for the GOP senatorial committee, insisted the party isn't recruiting candidates to oppose Harris, who became a national name in 2000 for her role in the presidential recount when she was Florida secretary of state.