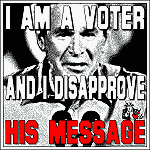 What is up with that 29%?
Despite a series of presidential speeches meant to bolster support for the war in Iraq, as well as the announcement of a major military offensive when the poll was getting under way, only 29 percent of the people questioned approved Bush's handling of the situation in Iraq. Fully 65 percent disapprove.
The way the president has dealt with issues at home hasn't brought him much support either. His approval ratings for the handling of energy policy (28 percent) and health care (28 percent) were new lows, while approval on the economy (36 percent) mirrored his overall rating. The single area where President Bush accrued more approval than disapproval was in his appointments to the Supreme Court, which 47 percent approved.
The outright anger against Bush felt by many Americans was reflected in responses to questions about the effort of Democratic Sen. Russ Feingold of Wisconsin to censure Bush in Congress for his warrantless wiretapping program.